WATER CONSUMPTION:
NOTE: Please click your "refresh" button to see the latest additions, if your computer has been here before and cached the old page.
1) TOILETS
Toilets sold before 1994 averaged about 24,000 gallons of water a year for a family of 4. New HET (High Efficiency Toilets) use only 7,000 to 9000 gallons a year.
To save water I changed my old toilets to new "TOTO" Aquia Dual Flush toilets. For light flushing, press the small button, for heavy flushing press the large button (located on top of tank cover).
OLD BEFORE: Used about 4 gallons (Manufacture year 1981)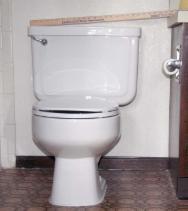 AFTER: New Toto Model: Aquia CST416 uses .9 gal for most flushes 1,6 for heavy flush
Note the taller sitting height and resulting tank height by almost 2 inches:
Color Cotton
Color Bone
NOTE: An older Aquia model 414 is replaced with 416, and sitting position is a nice 16 inches high. The old toilets were standard at only 14 inches sitting position. Model 464 is the ADA version with seat height at 18 inches (used in hospitals).
Year 2008: Many USA cities offer rebates up to $100 -125 for HET toilets to reduce the demand on their water supply. CHECK your Cities web. Westminster CO shows their list of qualified toilets at:
http://www.ci.westminster.co.us/res/env/water/envwater_conservation.htm
http://www.ci.westminster.co.us/articles/Toilet_rebate_application_2008.pdf
Puchased Aquia at Mcguckin Hardware DESIGN CENTER, Kevin Welch 720-406-2023 2460 Canyon Blvd Boulder, CO 80302 303 449 3779 www.designcntr.com
http://www.toiletwarehouse.com/index.asp?PageAction=VIEWPROD&ProdID=118
------------------------------------------------------------------
2) INSTANT HOT WATER (using a tank or tankless)
WAITING 2 MINUTES FOR YOUR HOT WATER TO GET TO THE FAUCET?
WATER WASTED DOWN THE DRAIN BOTHERS YOU?
The new ToTo Toilets fill the tank in only 10~11 seconds, so running my hot water and waiting 1 or 2 minutes seems like a huge waste in comparison to the toilets.
FIX:
By pressing this button at your sink (or remote button in your bedroom) this Metlund pump will circle the hot water up to your sink and send the cold water back into the house RATHER THAN DOWN THE DRAIN. A temperature sensor will shut the pump off when the hot water is within about 2 feet of your sink. The pump is usually located in the vanity under your sink.
The Metlund sales team will ask you about the size of your house to determine the layout of the hot water tank distance to the far end of the house and other sinks in between. The model most sold is the Metlund S-70T-PF kit plus optional remote buttons. Cost = about $300-400
Start at www.hvacquick.com and follow the links for "Instant hot water pumps", Metlund brand. ( From my research, the Metlund brand will last many years). These pumps are installed in high end home and sometimes activated by motion sensors, so the home owner always has instant hot water.
Installation requires you to snake a wire down under the vanity from the electric outlet above your sink. Install another electric box under your sink to plug the pump in.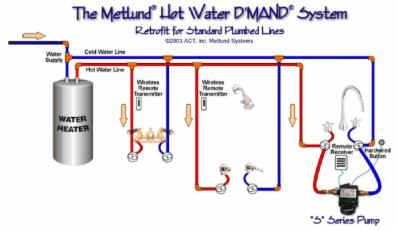 <Your sink is here
TANKLESS "ON DEMAND" HOT WATER SYSTEMS = a natural fit: This pump will benefit a tankless hot water system also! With tankless "On Demand" systems, you must run the hot water with big enough flow (not a trickle) for the machine to sense that water is flowing and TURN ON THE HEATER. By pressing the button for the recircle pump, the water flows fast enough to turn on the heater and get the hot water to your sink with NO WASTED WATER.
3) ZERI SCAPE:
ZERI SCAPE shrubs that are natural to your terrain can replace the water thirsty Blue Grass.
4) ALTERNATIVE TO ZERI SCAPE: A Garden
Use your lawn to grow your food! The tomatoes, fruits and vegetables will taste WAY better than what you can get at the grocery store.