Past articles about avenson house:
FatSpaniel.com: Observe live energy produced at my house from PV panels and from 100s of other buildings around the USA. Also see the sun's current brightness which tells you if it is cloudy or sunny: night = 0, best sunny day = 1100. This site is updated about every 2 minutes. In the lower portion you can click on week, year etc to see a graph of past history. The orange bars are what I used and the green bars are what the PV made: http://view2.fatspaniel.net/FST/Portal/SolSource/seri/HostedEndUserView.html
(See thousands of homes, schools, businesses around the USA: http://fatspaniel.com/ click on tab: "Demos", then "Live Sites".)
News Media:
NEW: RADIO INTERVIEW of John - Dec 13 2011: http://www.springsradiorealestate.com/2011/12/13/passive-solar-and-estate-planning/ My interview starts at 7 minutes into recording.
Boulder Daily Camera, May 13th, 2011 http://camerahomes.com/at-home/let-the-sun-shine-in/
BrownOnGreen, From reporter: Jerry Brown, Multiple articles on energy conservation: http://www.brownongreen.net/ and my Youtube link in 2010:
http://www.brownongreen.net/2010/12/energy-efficiency-inspired-by-the-jetsons-and-the-anasazi.html Thank you Jerry!
Denver Examiner July 2009 http://www.examiner.com/examiner/x-5397-Denver-Green-Initiative-Examiner~y2009m7d28-Near-zero-solar-home-tour-in-Westminster
Denver Examiner July 2009, Solar cooking on deck with Mary Carhartt: http://www.examiner.com/examiner/x-5397-Denver-Green-Initiative-Examiner~y2009m7d31-Cooking-with-the-sun
SMART ENERGY LIVING magazine, SUMMER 2008 edition, Page 12 - 13, other facts - pg 16 http://smartenergyliving.org/Library/images/Magazine/TOC.Summer.08.pdf
Sundancechannel near bottom of page, Februay 2008, Samuel Bodman, U.S. Energy Dept Secretary challenges all homebuilders to build 220,000 high performance homes by 2012: "Homebuilders Reach for High Performance Green Standards". See my E-Star rated "26" home picture at: http://www.sundancechannel.com/sunfiltered/?s=avenson
DailyHerald 12/9/2007 "Profiles in home energy savings" introduces you to REX, the home Environmental computer: http://www.dailyherald.com/story/?id=91418
Solar Today magazine 9/2007: John's written article of his history: http://ases.org/index.php?option=com_simplelists&view=simplelist&layout=basic&category_id=21&Itemid=23
Denver Post, 7/27/2006: Back to the energy future, The picture shows my crawl space. The thermal wrapped water tank to the left and a path to see the Rock box at right rear: http://www.denverpost.com/news/ci_4094687
Denver Post News, 9/23/2007: "Close the solar blinds Hal" : This 2 page article was distributed in the newspaper as pictured below: http://denvertomorrow.com/blog/2008/02/28/shut-the-solar-blinds-please-hal/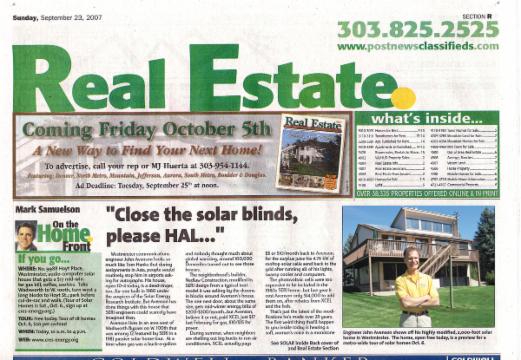 DenverYourHub, 10/2/2006, John and others purchase PV from Sol Source Inc. http://denver.yourhub.com/Denver/Stories/News/About-Town/Story~132248.aspx
CRES (Colorado Renewable Energy Society) In June 2006, Denver CO, CRES sponsored the annual ASES Solar Conference with attendance of about 3000. John was awarded the Larson Notari award for his outreach efforts to teach the public about Solar and Energy conservation. John conducts public tours at any time of the year through his SERI (NREL)engineered Passive/Active Solar home. http://www.cres-energy.org/larson_notari.html
NET METERING pictured here courtesy of you know who, allows your home's monthly produced electricity to be payed back towards you the owner. See at: http://www.explainthatstuff.com/ecohomes.html meter pictured near bottom.
Competitive Ballroom dancing practice is also my favorite daily hobby for exercise, fun, music, and great protection against standard follies of old age: http://www.boothdance.com/testimonials.aspx
Wunderground Weather Station, Weather conditions updated every 5 minutes from my Davis weather equipment: http://georgian.wunderground.com/weatherstation/WXDailyHistory.asp?ID=KCOWESTM2
Expired: Rocky Mountain News, February 2007 John plus Ron and Gretchen Larson in : The Rocky Mtn News sadly went out of business in 2008 http://www.rockymountainnews.com Expired: /drmn/energy/article/0,2777,DRMN_23914_5358936,00.html
Expired: Rocky Mountain News, Friday, 8/25/2006: John gets rebate for his PV system with price quoted: Expired: http://www.rockymountainnews.com This main Denver newspaper went out of business after 150 years, year 2008 due to available news from the internet . rmn/energy/article/0,2777,DRMN_23914_4943571,00.html
Expired: DenverEclectics society, Saturday, 10/7/2006: John gives home tour for 64 participants from the Denver Eclectic Society: Expired: Solar home Tours in Year: 2006 and 2007 http://denvereclectics.com
Expired: HomeStyle Magazine: Expired: http://www.homestylemagazine.co.nz/homepage http://extras.missoulian.com/homestyle/home_20080310_solar.html and also http://thetandd.ctwfeatures.com/home/home_20080310_solar.html